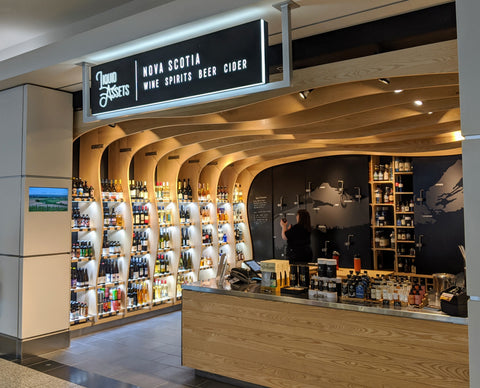 Hiring A Part Time Sales Associate!
Liquid Assets of Nova Scotia, located at Halifax Stanfield International Airport, offers a selection of the best wine, beer and spirits and ciders produced in Nova Scotia. Our customers are visitors, seeking a unique Nova Scotia-made gift, Nova Scotians traveling out of province, wanting a gift that is not available elsewhere, and Nova Scotians wanting to support local producers.
Sales Associate, Part Time
We are looking for experienced, energetic and positive people to join our team. Ideally, our team members will have previous experience in beverage alcohol sales and/or a genuine interest and practical knowledge of locally produced beer, wine, spirits, and or ciders. Preference will be given to those with industry education and/or experience producing, selling or growing. Bilingual or multilingual ability will be considered as strong assets. This is a year-round part time position; days, evenings, weekends, and holidays will need to be covered, so flexibility is key.
If This Is You:
You appreciate well-crafted beer, wine, cider and/or spirits
You have a desire to learn more about the Nova Scotia beverage alcohol industry and want to share what you learn with our customers
You want flexible hours and a positive mentoring working environment
You thrive working in a fast-paced environment, have a sense of urgency, and can

 

multitask
You enjoy being part of a team and have excellent communication skills
You have

 

mad

 

customer service skills, display grace under pressure, and know your way around a POS terminal
You can qualify for post security clearance (clean record, bondable, great smile)
We'll Need You To:
Assist customers in a manner that exceeds their expectations
Educate customers with exceptional product knowledge, helping them to select needs-appropriate beverage products
Make the sale, including packing,

 

wrapping

 

and preparation of products for air travel
Be vigilant regarding the policies around alcohol purchasing and carry on regulations, and enforce them in a positive educational manner
Unload deliveries (approx. 20 kg boxes)
Restock store shelves, including inventory management via post-security processes
Ensure the store is kept clean at all times; dusting, facing, merchandising
Offer product tastings in a fun, educational manner, within NSLC regulations of course
Receive product into inventory, POS administration, point of purchase material maintenance
Maintain a healthy and safe working environment, dealing with or escalating issues as needed, employing good loss prevention techniques
Other duties as assigned – from changing light bulbs to attending festivals!
 Basic Skills for All of Our Associates:
Experience in a fast paced, customer focused environment (preferably retail)
Ability to see what needs to be done, and then doing it quickly and well
Superior time-management skills in busy and slow times
Strong communication skills – verbal, written and ideally within Social Media
A collaborative people person, with a positive service-minded attitude
Flexible schedule; we are open 365 days a year
Serve Right, WHMIS, First Aid, WSET, OHS training all considered assets
Bilingual Eng/Fr or Multilingual considered strong assets
What We Offer:
A good wage and benefits package, based on skills and experience
A fun working environment, interacting with the

 

traveling

 

public
An opportunity to be part of a unique retail concept in Canada
Training and Education opportunities
Apply:
Job Type: Permanent Part Time (Not Summer or Seasonal Positions)
Apply via email to lisa.olie@lqans.com. Include resume and cover letter in .doc, .docx, or .pdf formats only, with your name included in the file name.
We thank everyone for their interest, however, only those that have been selected for interviews will be contacted.