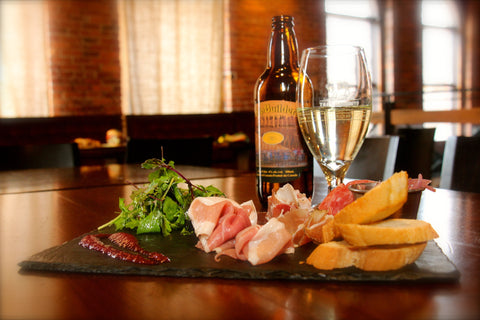 🍎With super fans such as their town mayor in their corner, Annapolis Cider Company has become a cornerstone in Wolfville, and articles such as this in the Chronicle Herald helps bring word of their growing brand to many new super fans.

🍎Being relatively new on the scene hasn't stopped Maritime Express Cider from racking up awards for every cider they entered at the recent Wine Align Awards. The Dayliner (semi-sweet) scored Silver, while the Train Hopper hopped cider and the Pullman Series Russet Cider both scored Bronze.

🍎Quietly winning awards along the way, Meander River Farm and Brewery regularly hosts dinner and event experiences. Follow them on Facebook to (try to) keep up with them, and visit them at Open Brewery Day on October 19, when they will re-release their Smoky Chipotle Porter Beer (Bronze, Cdn Brewing Awards 2018)

🍎Halifax's Urban Cidery, Chain Yard, is no stranger to the awards circuit, winning every year since they've opened! Take a look at the awards they've won just this year, and be sure to stop in when you are in the city.

GLINTCAPS 2019 (Great Lakes International)
GOLD: Pippin Russet – Heritage Cider – Dry
SILVER: Foundation – Modern Cider, Dry; Ginxberry – Specialty Cider and Perry; Hopped Up – Hopped Cider; Intrepid – Modern Cider, Dry
BRONZE: Olden Russet – Wood Aged Cider; Rhubee Cyser – Specialty Cider and Perry

Canadian Cider Awards 2019
SILVER: Foundation – New World Cider
BRONZE: Gonna Move Ya – Specialty Cider
National Wine Awards of Canada – Wine Align 2019
SILVER: Rhubee Cyser
BRONZE: Rosé, Foundation, Hopped Up, Intrepid
🍎Considered to be a 'Granddaddy' of the NS Cider Industry, ShipBuilders Cider has a fun little brother, Sid's Cider. Between them, they have won awards for years now, including in 2019. Besides when you are travelling through Halifax Stanfield, find ShipBuilders and Sids around the province on your farmers market visits, as well as at their parent winery, Petite Riviere.
National Wine Awards of Canada – Wine Align 2019
BRONZE: Shipbuilders Medium Dry Cider - Modern Cider - Dry Category
Sid's Crisp Apple Cider - Modern Cider - Sweet Category
Sid's Strawberry-Rhubarb Cider - Fruit Cider
Nova Scotia Ciders are an excellent option for celebrations; often lower in alcohol, fizzy and fun, and low cost for sharing among friends. Visit our online store to choose your ciders for the season!