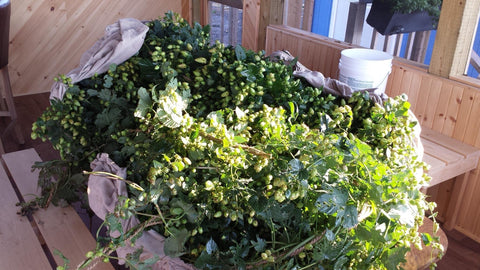 When people think of craft beer, the first thing that comes to mind is its unique taste that (can) really divide us as a society. Those new to the artisanal brews experience a rather hoppy flavour. This comes from a little vine-like (it's actually bine if we want to get super technical) plant called "hops" and can immediately draw folks in or completely shut down the desire to ever try it again.

But what is hops and why should you give hops a chance? Let's explore the history and why you should reconsider your stance even if you weren't crazy about that one time you took a swig from your hipster buddy's growler that he got on his last brewery crawl.

The four main pieces of your average beer are grain, yeast, water, and, you guessed it, hops. Hops is the common name for the flower of the Humulus Lupulus plant. Originally introduced to the beer world in the 9th century and seeing a surge of success by the 15th century. Initially introduced as a beer preservative, folks started to take note of the different flavours it added to the brew.

Nowadays, hops is one of the brewmaster's most powerful tinkering tools. Hops allow the individual to really hone their craft and create distinct profiles. You will hear your enthusiastic beer friends rave about their favourite hops and how each one has a vastly different effect on the end product (both in aroma and palate).
Similar to how there are wines with just one grape varietal or several, you can also get beers that are blended with a single type of hops or with a few different ones thrown into the mix. Most NS brews use a combination of different hops. Some will go heavy on a certain type, whereas others create a more even divide in the mix.

For simplicity, we'll bring two different IPA's to the table, both available here at Liquid Assets NS.
For the predominately single-hop camp, we have Propeller Brewing's Galaxy IPA is an incredibly popular brew using Galaxy hops (known for its aromas of peach, pineapple, and tropical citrus). There's also just a touch of Citra and Mosaic to give it some mango and tangerine undertones.

In the other corner, we have Heritage Brewing's Freezing Spray IPA. The sweetness of its malty foundation allows it to bring on a trifecta of Chinook, Citra, and Ekuanot hops. This one also gives off some aromas of fruits and citrus, but the palate shifts towards spice and pine.

You can "hop" more than just beers.
For example, we also have a Hopped Vodka from Coldstream Clear Distillery. This is a different take on their mainline vodka which welcomes a palate of citrus and bitter notes. Distilled with Centennial and Cascade hops, this almost gin-like spirit goes great with your lemonade or Caesar.

We also have a hopped cider, the Train Hopper, from our new friends in Kentville, Maritime Express Cider. A combination of three different hops from the Annapolis Valley gives this cider a neat little twist on the classic apple-based beverage. On the nose, you'll find fresh citrus and hops. The palate explores notes of grapefruit, floral, and lemon with a tart finish. This concoction makes for a beautiful hybrid/bridge between cider lovers and IPA fanatics.

Now, I've answered what hops is but have yet to bring the traditional/commercial beer drinkers over to the craft side of the force.
Most folks who are hesitant to try craft beer are likely worried about how hoppy it'll be. While some beers go crazy with hops, there are some that are much tamer with it comes to the ingredient.
Our palates are like any muscle group. You don't just go to your first ever gym session and pick up the heaviest weight. Same with getting into craft beer. Going for a super hoppy product is likely going to turn you away from the idea entirely. Start with something lighter and work your way up to the beer snob level (no shame in that title). The more you work it out/drink, the more it will develop.

I suggest looking for a lagered ale or a nice cream ale. Both of these styles are gentler when it comes to the ol' brewskies. They tend to focus less on the hops and create a very approachable product.

In the lager department, we have Tatamagouche (I'm a very proud Nova Scotian because I managed to spell that without cheating) Brewing Co's North Shore Lagered Ale. It's a crisp little ale that's refreshing and easy to toss back. I call it the "missing link" because it's the only craft beer that I buy that mysteriously goes missing when my roommates are around (still working on converting them).

Boxing Rock's Three Sheets Cream Ale is a trustworthy summer thirst quencher. Its profile is fairly smooth and refreshing while still being aromatic. This style of beer is what properly introduced me to craft liquor and will always be used as the first tool in my journey to bring us all together over a local, artisanal craft pint.

Drew Jardine, Liquid Assets NS

WSET Level 1 – Winesagasu/The Drink Talking
Contributor/Nova Scotian Representative – Wined Up UK
Former Tasting Bar/Retail Manager - Luckett Vineyards
Bachelor of Commerce Student - Saint Mary's University
Image courtesy Big Spruce Brewing