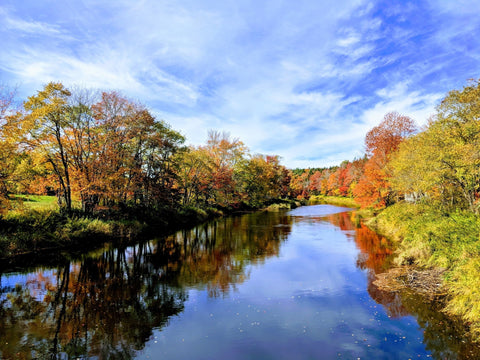 Fall is a time of change, the leaves turn, the thermostat gets turned up, the comfort foods come out and sweaters go on. The lightness of spring, the refreshing drops of summer are of the past as fall calls for warmer, more robust fare.
At Liquid Assets this means new products hit the shelves and old ones take on new roles. Light and refreshing fruit-forward beers make room for seasonal favourites such as Pumpkin Spiced Ale from Propeller made from Howard Dill's world-famous pumpkins from Windsor Nova Scotia and seasonal spices. As they say, Pumpkin Pie in a glass. Porters and Stouts come into their own on the forthcoming chilly nights. Lunn's Anvil Porter with roasty notes, chocolate and dark fruit or Roof Hound Handsome Devil Milk Stout with bold and roasted coffee notes will warm your toes.

Or, perhaps, make it wine time for that final BBQ of the season. Blomidon or Grand Pre Baco Noir would enhance any BBQ fare, or make a pizza and football game that much better. At the dinner table and for the holiday celebrations the wonderful wines of Nova Scotia cannot be forgotten. With Thanksgiving around the corner, Benjamin Bridge Cabernet Franc or Gaspereau Muscat are worthy of any turkey. Lightfoot & Wolfville or Planter's Ridge Chardonnay would enhance and pair wonderfully with a starter of butternut squash soup. A toast to any event would be that much better with sparkling wine from L'Acadie Vineyards, Benjamin Bridge, Avondale Sky or Lightfoot & Wolfville. All use the Methode Classique and have mastered their own, unique styles.

Fall is a great time to try something new or something new to you. Our Nova Scotian beers and wines are unique and exciting. Give them a try and find your favourites.

Wallace Fraser
Sommelier, Sales, Liquid Assets NS

Introduction to Bartending Instructor for the Halifax Continuing Education Dept. 1985-2000
Wine Introduction Instructor for the Halifax Continuing Education Dept. 1992- 2000

Honorary Harvestor Chateau Mouton Rothschild 2000

Graduate of the International Sommelier Program 2001

Co-Founder and past President of the Association of Sommeliers of the Atlantic Provinces (now CAPS Atlantic)

Diploma in Food and Wine Dynamics from the Culinary Institute of America in Napa 2003