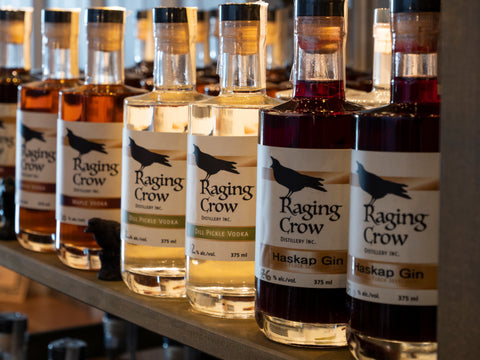 592 Hwy 311, North River, NS
In June of 2016, Jill Linquist and her husband Al Bégin were on a wine tour in the Okanagan when they came upon Legends Distilling in the Naramata Bench amongst several wineries. The young woman who provided their tour of the distillery happened to be from Lunenburg. They were surprised to learn that all of the products could be produced from one still. As owners of Goose Landing Vineyard, they knew the difficulties in dealing with weather issues and predators as it relates to grapes, plus the seasonal aspect of wineries. A distillery does not face such issues and the thought of a distillery began to ferment.
In the summer of 2017 Linquist approached a friend Kris Pruski who was retiring from teaching at Dal AC and had an interest and experience in distilling. They developed a business plan, incorporated Raging Crow Distillery Inc and received a permit to produce spirits from the Canada Revenue Agency in February 2018. Jill and Kris headed off to a Master Distillers course in Kelowna, B.C. in early March and started small scale distilling when they returned.
A surprise in the plan was to discover that North River was a dry community and a plebiscite would need to be held to make a change. Thankfully with the support of the community the vote was overwhelmingly for a wet community.
The 200 L pot still ("Beauty") and the 400 L column still ("The Beast") arrived in July after renovations were underway to a building at 592 Hwy 311 in North River to create the distillery. Products were developed throughout the summer months and a grand opening of the distillery was held in September of 2017.
Raging Crow Distillery is small-batch, handcrafted, artisanal products that include such unique flavour profiles as Spruce Tip Gin and Dill Pickle Vodka which is fabulous in Caesar's. Locally sourced, all-natural products such as Aroma Maya coffee for the coffee liqueur, MacRae's maple for Maple Vodka and local haskaps for Haskap Gin are used whenever possible.
New and repeat customers of the distillery comment that the absence of artificial chemicals and additives in the distillery line results in premium taste profiles. The organic grains used for distilling are from Horton Ridge Malt Company in the Annapolis Valley.
One of the signature products is the potato vodka which is the only one produced in Nova Scotia. Kris is from Poland and traditionally vodka in Poland is made from potatoes. Although it produces a smaller yield and can be more difficult to distil the end product has a lovely smooth, silky mouthfeel and taste.
Raging Crow Distillery is constantly developing new products. There is currently organic rye ageing in barrels, as well as a bourbon-style whisky in a barrel.
Raging Crow Distillery is pleased to have three of their products listed with Liquid Assets NS which provides a great source for travellers to take a little of Nova Scotia with them when they leave.