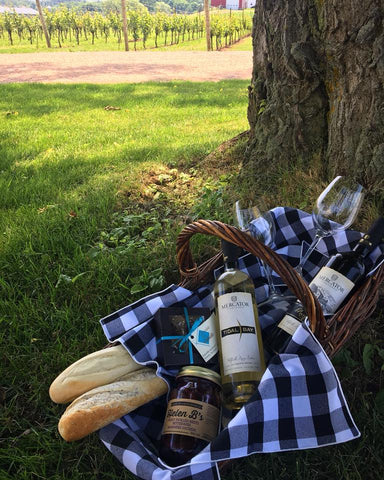 Finding the right Nova Scotia wine as a gift can be simple, and there are a lot of amazing options you can gift with pride. We carry over 80 at our small shop alone!
According to WSET Global, important factors to consider include:
Who is the recipient

- do they have a favourite wine style or one they say they'd love to try, is there a label that relates to their name somehow, is there a Nova Scotia winery that they love to visit? Be sure to explain your choice on the card that accompanies the gift!
Ask for help

- " Asking a shop assistant for help is not accepting defeat, it's the smart move. They will likely be highly educated and have tasted the full range so can give you the best service and tailor their knowledge to your desires. Yes, they want to make a sale, but they will value your satisfaction way above how much you spend." -WSET Global. It's true!
If you are gifting to someone not familiar with Nova Scotia wines, think single variety grapes. Our hybrid wine grapes are often unlike what is available in other parts of Canada, and tasting one special L'Acadie Blanc, Seyval Blanc, Marquette or Marechal Foch wine will be a new and novel experience for many recipients.

If your budget is a little larger, gift a flight of wines. Tidal Bay wine from two or three different wineries will make for a fun evening or dinner party for your recipient as they explore the similarities and differences.
Think outside the box; there are still and sparkling meads, fruit wines, ice wines and dessert wines all made here in Nova Scotia that will impress and delight.
Still not sure? Give an experience! We love working with Sip & Taste Tours out of Halifax.

According to owner Susan Downey-Lim: 
"We offer wine tour gift certificates that can be purchased for any amount or any tour. When your recipients want to book, they choose the tour/day and enter their gift code to redeem. They never expire and we offer tours all year. Tours run 7 days a week May 1-Oct 31 and on Saturdays all winter (Nov 1-April 30) plus a shuttle to the Icewine Festival on Feb 14, 15, 21, 22."
Best of all, you can purchase online, and they offer food and beer tours, too!
Remember that price is not as important as thought and research. The right fit in wine is far easier to find than the right fit in gloves.
 (Thanks to Jost and Mercator Vineyards for the great pics and great wines.)