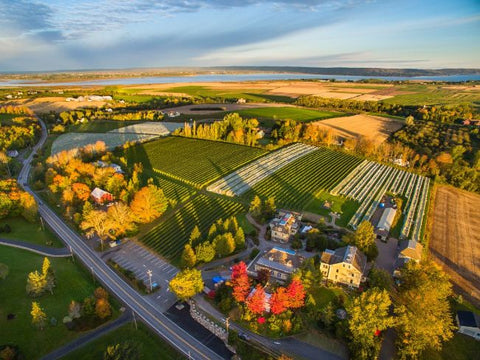 It's grape harvest season in Nova Scotia! For the next month or so, our wineries are still open and have some fun and educational events happening. Make your way out into the lush Fall countryside and enjoy the bounty of the harvest.
Some of our favourite wineries are hosting fun events that we know you'll enjoy:
One of Nova Scotia's most popular wineries to visit, for the wines, food and view. Don't forget to stop at the famous Phone Box right in the middle of the vineyard!
Yoga, Brunch and Tour, September 8.  Yoga in the Vineyard has been such a popular event, the winery is carrying it over for another month. This is an all-levels class, so even if you're not a yogi or yogini, you'll enjoy the stretch and the opportunity to get centred on your mat. With brunch and a winery tour, you can't go wrong. There's even one for late risers. September 8th. Get more info here.
As Nova Scotia's only certified organic winery, L'Acadie Vineyards is participating in Organic Week Canada with special tastings in their wineshop Sept 9th-15th organicweek.ca

DEVOUR Festival presents this year a Bubbles Bus with food by Wine Grunt. Enjoy a visit to L'Acadie Vineyards and Benjamin Bridge, with three tastings at each winery. And you don't have to drive! Oct 23rd-27th devourfest.com

L'Acadie Vineyards will also be at the new Fall Wine Festival with Taste of Nova Scotia, Oct 5th at Wolfville Farmers' Market
If you haven't made a stop at Mercator Vineyards in Wolfville yet, you are missing out. This is a small boutique winery where you won't find busloads of people - perfect as part of a romantic weekend or to experience Nova Scotia wines without crowds.
To encourage you to make friends with this beautiful winery, they are offering only on-site:
Harvest Packs - Buy 6 featured wines (Seyval Blanc, Petite Milo, Tidal Bay 2018, Sauvage, Upper Ridge Marquette, Reserve Marquette) for a discounted price of $145 with $10 per every case donated to Feed NS.

Cheese Flight for Limited Time Only - September 1st - October 13th A fall cheese flight, available on their tasting bar daily, that features four local kinds of cheese paired perfectly with four of their wines.

Picnic Basket Special - August 24th - September 22nd. Preselected basket of $25 value featuring a variety of local products.

Vineyard Tour & Taste - Join Vineyard Manager Rebecca Griffin for a walking tour in the vineyard on September 15th from 1-2:30 pm. Learn about the vineyards practices, grapes, healthy bee population and long-term relationship with Cosman & Whidden Honey Ltd. Progressively taste three wines throughout the tour with head winemaker Gina Haverstock. $5 per person. Call for details 1-902-542-7770
Domaine de Grand Pre has an entire series of fall events for your enjoyment. Pro tip: stay for dinner at their exceptional restaurant, Le Caveau.
Open Farm Day @ Grand Pré Wines– September 15th 11am- 4pm
No ticket required
Visit for a guided tour of Grand Pré Farm Vineyard at 11am or 4pm. Then join them in the tasting room to sample their delicious wines. Talented staff are looking forward to walking you through the winemaking and tasting process.


Grapely Ghost Walk @ Grand Pré Wines– September 20th at 7pm
$20 for Grapely Ghost Walk, $25 for Grapely Ghost Walk with Tasting
The Grapely Ghost Walk is a 2-hour experience, featuring ghosts from the five towns they haunt: Wolfville, Kentville, Windsor, Halls Harbour and Hantsport.
These walks are not intended to cause heart attacks. That would be bad for business.
Pair spooky stories with Grand Pré Winery's delicious wines. Tickets here
Starring Pomme d'Or @ Grand Pré Wines – September 22nd 11am – 4pm
No ticket required
It's Apple Harvest time in the valley and Pomme d'Or pairs perfectly with a morning of apple picking. Discover the delightful Pomme d'Or Iced Cider and Crème Liqueur made from Annapolis Valley Apples. Join in for a complimentary vineyard tour at 11am and 4pm followed by some apple inspired drinks.
Inspire Your Senses @ Grand Pré Wines – October 19th 11am – 4pm
No ticket required
Inspire your senses and experience Grand Pre's flavours – from grape to wine.
Match fresh grapes with finished wines for a chance to win some wine.
Come by at 11am, 1pm and 4pm for an extended, complimentary vineyard tour with a rare visit to the cellar and meet Winemaker Jurg Stutz.
Go North! Take a wandering journey along the peaceful North Shore to find Jost Vineyards nestled on the coastline this fall.
Wednesdays and Thursdays through Fall
Come by for a special 3-course experience at Seagrape Cafe with seasonally inspired menus changing every day. $27 per person, plus taxes- they'll also offer a wine pairing to accompany your meal for just $8 more!

Friday, October 11th
Harvest Unwind at Jost with a special dinner menu complete with wine pairings for your meal $55 per person plus tax

Saturday, October 12th
Harvest Fest - Noon till 5pm featuring the band Unforeseen 
Special deals in the retail store on wines and other products
Harvest festival menu with all the flavours of the Fall!
Full Events Listing for Jost Vineyards
A delightful small winery that packs a big punch. Gina Haverstock's award-winning wines are favourites of those paying attention to the NS wine scene.
Wine & Chocolate Sensory Evaluation Evening Thursday, October 10th 7 pm to 10 pm. Explore gourmet chocolate with selected wine pairings. Learn how to evaluate chocolate like a professional with a guided tasting led by Chocolate Sommelier & 'Bean to Bar' Chocolate Maker Gabrielle Breault of Petite Patrie fine chocolates. Discover chocolate terroir, countries of origin, & how to evaluate chocolate by sense of appearance, smell, & taste, in an in-depth, intimate setting. Your chocolate tasting will be paired with selected Gaspereau wines by Sommelier Craig Campbell. The evening will include surprise treats & select retail offerings. Tickets may be purchased directly through the winery, limited space available. Contact: ccampbell@gaspereauwine.com to arrange tickets. Tickets $40 per person.

Harvest Soup Luncheon Thursday, October 17th, Gaspereau Vine-Side Patio from 11 am to 2 pm. Local Harvest Vegetable Soup Bowl, breads & rolls, come one, come all, first come, first served. Coffee/Tea included. $12 per person, tax included. Celebrate the bounty of harvest with Gaspereau!

Harvest Variety Packs – select packs of six wines at a discounted inclusive price of $100. They will donate $10 to Feed NS for every pack sold. Available Oct 1st to the end of winery season.

HALF PRICE Bicycle Rentals! September 15th to October 15th inclusive. Explore the beautiful valley & local area.

Special Limited Time Harvest Flight at our tasting bar – Sept 15th to Oct 31st inclusive. Tasting Flight of Cuvee Brut 2011 traditional method sparkling wine, Gaspereau Riesling, Lucie Kuhlmann 2017 Barrel Select, & Maple dessert wine for only $8 taxes included.
A trip to wine country in Nova Scotia wouldn't be complete without a stop at Lightfoot & Wolfville Vineyards. This year, they are hosting a spectacular Harvest Dinner. This is an annual event, so make a note in your calendar for next year, too!
Celebrate the harvest season at the third annual Harvest Dinner on Friday, October 4th 2018 at 7 p.m. in the Barrel Cellar. Enjoy a five-course, wine-paired dinner prepared by Chef Brady Bertrand and team featuring ingredients sourced directly from the Lightfoot Family farm and gardens.

Tickets will become available in late August.
*tickets are inclusive of gratuity
*allergies can be accommodated - email events@lightfootandwolfville.com
There are many more events happening at wineries all over the province every week in the fall, and many are family-friendly. Stay in the know through Taste Of Nova Scotia's Event Listings and Wines of Nova Scotia's Event Listings.