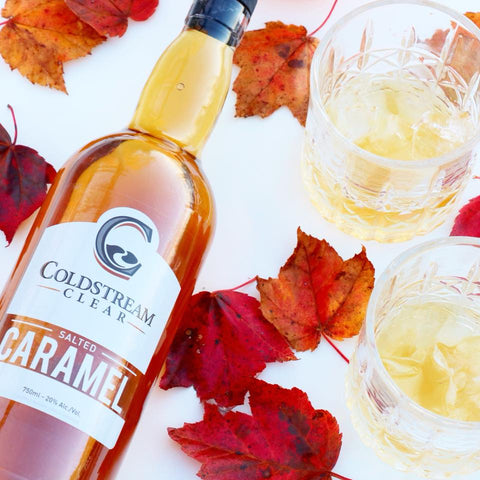 Established in 2015, Coldstream Clear Distillery is known for its unique variety of top quality products. Coldstream is family owned and operated, based in the heart of rural Nova Scotia. Our spirits are naturally gluten-free and made with pure artesian spring water that is sourced from the family property.
Fall is the perfect time for warm, comforting flavours, especially the combination of Salted Caramel and Apple Pie (well besides pumpkin-spiced everything, of course). Coldstream's Apple Pie Liqueur is made with 100% Annapolis Valley grown apples and combined with a host of familiar spices and natural sugars. It is a vodka-based liqueur that is perfect for sipping as a dessert, around the campfire, or with some hot Apple Cider.
Looking for a crisp, refreshing way to enjoy the Fall flavours? Coldstream's Cranberry Vodka Soda is the perfect go-to for those thanksgiving gatherings. Made with real Maritime Cranberries from Terra Beata Farms, with no added sugar – it's a light, guilt-free drink to enjoy!
Coldstream's Salted Caramel is a sure way to liven things up this Fall, whether it comes to enjoying in your coffee, pairing with Apple Pie or just on its own. Its mouth-watering flavours of sweet and salty will have you reaching for another.
Caramel Apple Martini
½oz Coldstream Apple Pie
½oz Coldstream Salted Caramel
2oz Apple Cider
Shake in Martini Shake with Ice
Warm Holiday Cocktails with Coldstream's Candy Cane
With the Holiday's just around the corner, Coldstream's Candy Cane is a must-have festive liqueur. Available Oct. 11th at Liquid Assets so you can bring this seasonal favourite anywhere you are travelling. You can never go wrong with adding it to your hot chocolate, mixing up a martini, or even just sipping on its own!
Candy Cane Hot Chocolate
2oz Coldstream Candy Cane
6oz Hot Chocolate
Garnish with Whipped Cream
& Crushed Candy Cane
Enjoy Your Holiday Celebrations!