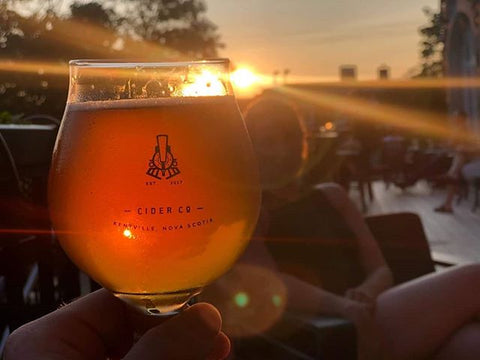 The running commentary within the beverage industry in Nova Scotia is that Nova Scotians talk 'dry' but really drink 'sweet.' As most producers will tell you, their most popular products are the sweetest ones they make.
So what does this mean, how do you know what to look for, and most importantly, what if you REALLY DO want a dry cider?
With the help of some of Nova Scotia's cider producers, we've unpacked some information for you to consider when shopping for ciders.
According to thebacklabel.com "high amounts of sugar give beverages a thick, viscous or heavy feeling often described as wet...on the other hand, less sugar means less thickness, less sweetness and more of that crisp, dry feeling."
But that's not the end of the story. The word 'feeling' in this description is critical. As Sean Myles of Annapolis Cider Company in Wolfville will tell you, "Currently, there are neither regulations nor accepted criteria for labelling a cider as 'dry'. As is most commonly practised in the wine industry, we use the word 'dry' when the remaining sweetness of a cider, if any, is balanced in a way with the acid and tannin to produce the perception of 'dry'." So, a cider may feel 'dry' in your mouth, even though it is higher in sugar. And if that feeling is what is important to you, drink on!
However, if you are looking for a truly dry cider with low sugar content, look to the label. The amount of sugar left after fermentation is called residual sugar (RS) and is used by winemakers, cider makers and often brewers. Listed as grams per litre (g/L,) this is a reliable way to determine true dryness as opposed to perceived dryness.  Ross Palmer and Jimi Doidge from Maritime Express Cider tell us, "Our dry cider has 0-2 grams per litre while the semi-sweet has 18-22 grams per litre." That's a big difference if the sugar content is important to you for any reason, or if you truly want a cider that drinks like a Brut bubbly.
If your favourite cider brand doesn't list the RS (residual sugar) consider asking the cidery to add it to their labelling. Because, in one last twist, "dry beverages can be perceived as sweet if the beverage had flavours imparted on it through ageing in oak, such as notes of caramel, fruit, or floral notes for example...and are then slightly carbonated which adds another layer of perceived sweetness," according to Palmer and Doidge.
Worth noting, hangovers are more likely with high sugar beverages than low sugar ones.
Try as many of Nova Scotia's local craft ciders as it takes to discover what you enjoy, is our advice, just not all in one sitting! We work with eleven cider producers in Nova Scotia to bring you the best in variety.